You already know that the library offers a great collection: electronic resources in all disciplines, millions of books and other print resources, primary source and archival materials, and much more. This guide introduces an array of library services and expertise — some new, some you might not be familiar with — that can support and advance your research and teaching.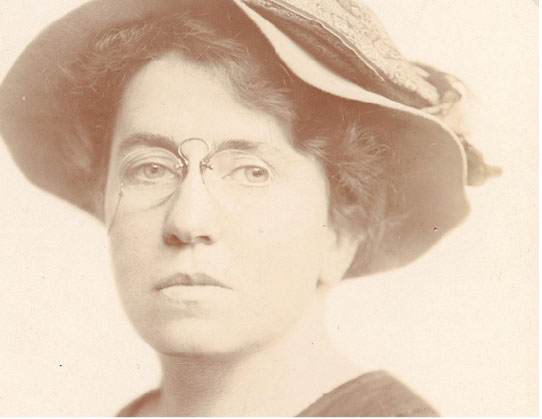 Emma Goldman in 1911 | Library of Congress
Emma Goldman at 150
To mark the 150th anniversary of the birth of iconic feminist and anarchist Emma Goldman, the U-M Library will celebrate her uneasy life in a one-day symposium on June 27 from 9 a.m. to 4 p.m. Among the participants are Candace Falk, founding director of the Emma Goldman Papers project at UC Berkeley; Anna Elena Torres, author of the forthcoming book Any Minute Now The World Streams Over Its Border! Anarchism and Yiddish Literature; and Ari Weinzweig, author and co-founder of  Zingerman's Community of Businesses, who describes his business philosophy as "a lapsed anarchist's approach." 
The library holds an impressive collection of Emma Goldman materials in its Labadie Collection, including correspondence, leaflets, newspaper clippings, her Russian passport, and her suitcase.
This event is free and open to the public; please register if you plan to attend.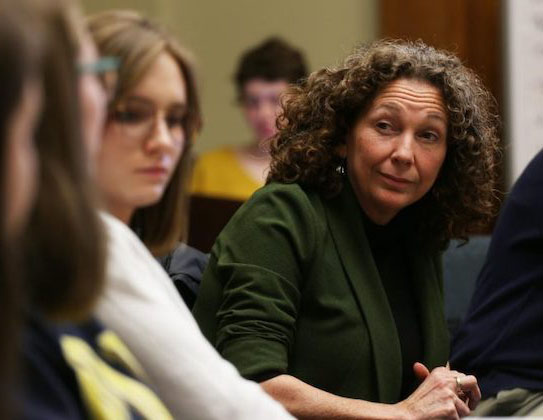 Nancy Savoca in the classroom | Photo by Alan Piñon
Honoring a film arts maverick
Filmmaker Nancy Savoca, whose films have brought working women and ethnic diversity to the screen, was celebrated at the symposium Character Driven: Exploring the Career and Archives of Nancy Savoca. Events included a one-day symposium on Friday, May 10; screenings of her work at the Cinetopia Film Festival; and the exhibit True to Life: Film Director Nancy Savoca's Quest for Authenticity, on display in the Hatcher Library Gallery through June 30.
Savoca's papers — spanning her career as a director, producer, and screenwriter — are part of the Screens Arts Mavericks & Makers collection at the U-M Library. Her archive represents nearly three decades of indie filmmaking, and includes notes, notebooks, photos, and script drafts.
Find what you need
Use U-M Library Search to find books, journals, and more.
Once you find what you're looking for, select Get This in the item record to request delivery to a campus library or your department address, or to have small portions scanned and delivered electronically.
Get materials not in the collection
Put course materials on reserve
To make your course packs, optional reading materials, textbooks, and other media freely available to your students, you must submit a Course Reserves Request Form.
Ask a Librarian
Use our Ask a Librarian service for research-related questions or for information about how to use library resources and services.
Spotlight: Streaming video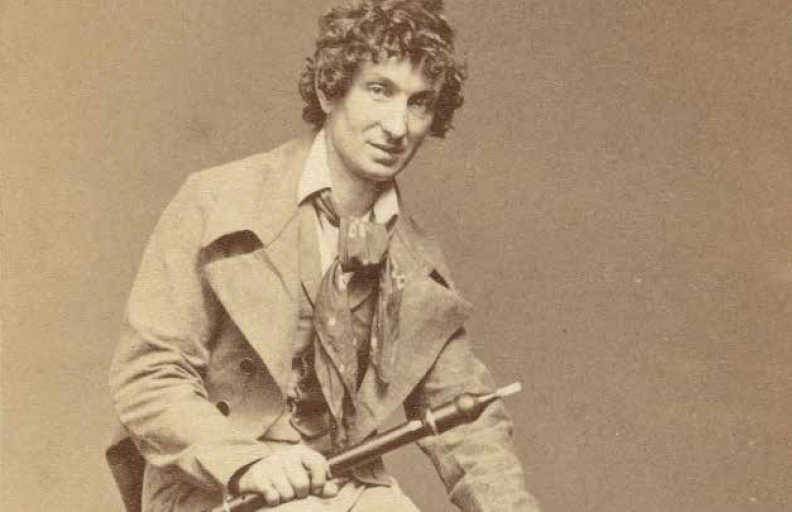 Harry Watkins, circa 1847 | Houghton Library, Harvard University
A 19-century diary meets a 21st-century collaboration
As a diarist, actor Harry Watkins (1825–1894) was prolific, writing almost daily entries from 1845–1860 that provide a rich source of information for those studying 19-century American theater in the period before the Civil War. (Among the characters who show up in the diary is Junius Brutus Booth, father of Lincoln assassin John Wilkes Booth.) Now the transcribed text for these entries is publicly available via the U-M Library in a collection called The Harry Watkins Diary: Digital Edition.
This resource is just one component of a project that has also yielded a book, a website, and a Twitter feed, and that has been enabled and supported by multiple institutions, among them:

Harvard University Library, which holds the diary and offers an open digital collection of high-resolution page images.
The University of Michigan Press, publisher of A Player and a Gentleman: The Diary of Harry Watkins, Nineteenth-Century U.S. American Actor, edited by Amy E. Hughes and Naomi J. Stubbs ("a valuable resource for scholars and students of U.S. theatrical and social history," according to reviewers, and "of immediate interest to theatre historians [while being] engaging and accessible to general readers.").
The University of Michigan Library, which hosts the diary's transcript, The Harry Watkins Diary: Digital Edition, as companion to A Player and a Gentleman.
Creating, developing, and managing your project
The library's Research Data Services can provide expert help with the research methods and tools you'll need to collect, describe, and manage the information and data you'll be assembling.
Create meaningful images from your research data with help from the library's data visualization specialists.
Make informed decisions about the creation and reuse of intellectual property with help from the experts in our copyright office.
Exploring your area of inquiry
The library's subject specialists offer deep knowledge in a wide variety of disciplines and are available to consult with you on research or be an active partner in your project.
Library specialists can identify potential sources of funding and can set you up to receive weekly alerts with new funding opportunities.
Research Guides serve as roadmaps that point you and your students directly to trusted sources in your field of study.
Get help finding, accessing, and acquiring data sets from the library's network of data services.
Sharing, publishing, and preserving your work
Your subject specialist can provide information about the publication venues that will maximize the impact of your work and about tools to help manage your identity, and the library's Michigan Publishing Services can help you with original digital and print products.
Use the library's institutional repository, Deep Blue, to preserve and share your publications, data, and other research materials, and to meet funder mandates.
The library's copyright specialists will consult with you in person or online about your publishing agreements, and have developed author's addendum to help you retain your right to use and share your work.
Finding help
Faculty, staff, and students can register for free library workshops offered year-round through the Teaching and Technology Collaborative.
ScholarSpace offers consultation services, workshops, and course-integrated instruction to help faculty, students, and staff develop digital literacy and design skills.
Doing it yourself
Use the DIY Toolkit to introduce library research to your students. Handouts, slideshows, and exercises are ready for use in the classroom, and allow you to select the information to share with your students.
Provide students access to specific library materials and services from within your Canvas course site.
Assign online tutorials to help students learn how to navigate and use the vast resources available through the library.
Opportunities for your students
One Credit Courses
These classes, taught by librarians, will enhance your students' research skills, improve their ability to sort fact from fiction, and introduce them to data visualization techniques.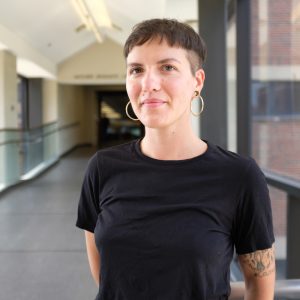 Library Mini Grants
Mini grants for students support innovative and collaborative projects that make a real-life impact. We supply money, a library mentor, and access to world-renowned research collections.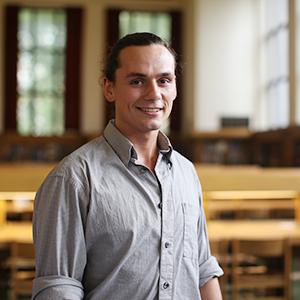 Undergraduate Research Awards
Stellar research projects deserve recognition. Suggest that your students apply for a cash award, and submit a letter of recommendation illustrating how the student's use of library materials contributed to making a project comprehensive, original, or unique.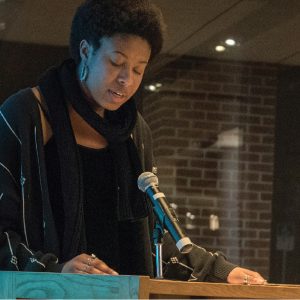 Café Shapiro
Nominate your top undergraduate student writers to read or perform their works. We'll include their work in an anthology to be deposited in Deep Blue. And we'll provide the coffee.
Current & upcoming exhibits
Bookmarks
See Bookmarks: Speculating the Futures of the Book and Library in Hatcher, Shapiro, and the Art, Architecture & Engineering Libraries | though May 26th
This multi-venue exhibit of installations, performances, interventions, and events by University of Michigan faculty seeks to instigate and showcase creative responses to challenges to the book and the library in the forms we have inherited as well as to project ways of reimagining futures for/of books and libraries.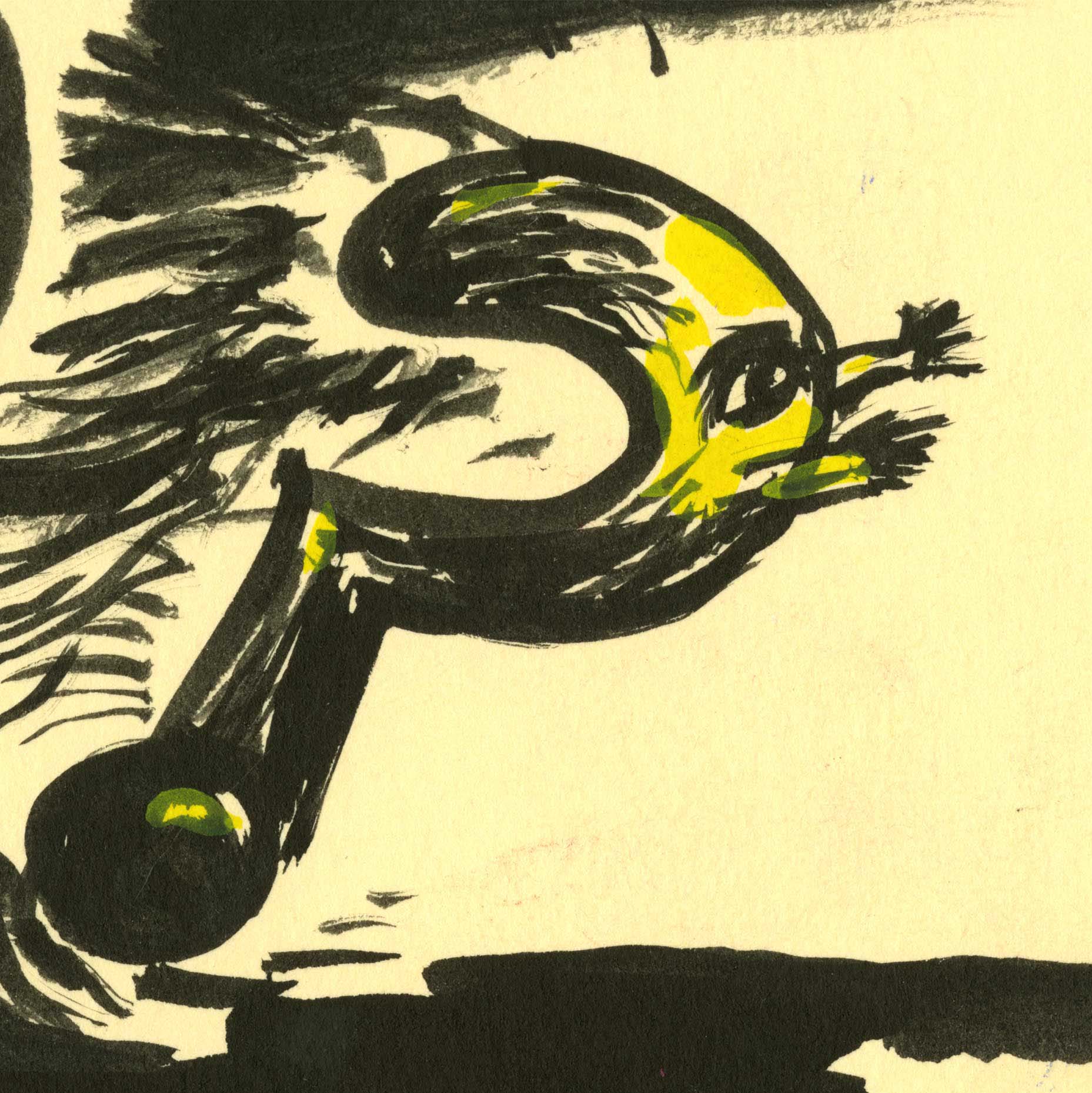 Free Poems and Functional Art
See Free Poems and Functional Art: 50 Years of the Alternative Press in the Audubon Room, Hatcher | through June 2
In 1969, Ann and Ken Mikolowski installed an early 20th century letterpress in their home and began The Alternative Press. They began with free broadsides of poetry, and then embarked on a series of experimental mailings: envelopes that included an assortment of bookmarks, broadsides, bumper stickers, and postcards. Along with selections of this work, this exhibit includes correspondence and drafts that offer a behind-the-scenes view of the workings of the press and its associated artists and writers.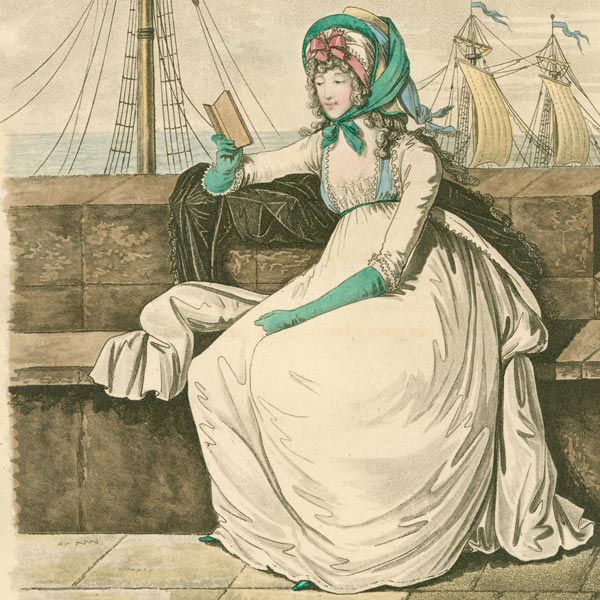 Divide & Clothe
See Divide & Clothe: Illustrating Fashion in Nineteenth-Century Europe in the Audubon Room, Hatcher | June 10 - September 1
The dramatic surge in images of clothing that appeared in European books, journals, and prints from the 1780s through the 1870s contributed to and reflected shifting ideas about the interrelationship between clothing and identity. This period saw "fashion" begin to drive clothing choice for Europeans. The exhibit features images from the period including fashion plates, caricatures, journals associated with clothing production, and encyclopedic volumes on historic dress and world costume.